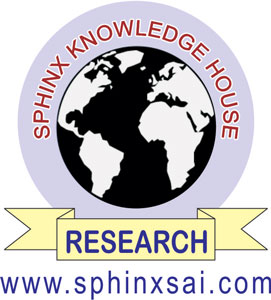 International Journal of PharmTech Research
ISSN : 0974-4304
Jan – March 2009 Vol.1,No.1
Contents
Assessment of impact of Patient Counselling, Nutrition and Exercise in patients with Type 2 Diabetes Mellitus.
D.A. Satpute, P. H. Patil, V. G. Kuchake, P.V.Ingle,S. J. Surana, P. N. Dighore 1-21
Synthesis and Biological Evaluation of Schiff base of Dapsone and their derivative as Antimicrobial agents
S. J. Wadher, M. P. Puranik, N. A. Karande and P. G. Yeole 22-33
Formulation, Evaluation and Optimization of Fast dissolving tablet containing Tizanidine Hydrochloride
P.S. Zade, P.S. Kawtikwar, D.M. Sakarkar 34-42
Comparative evaluation of antidiabetic activity of some marketed polyherbal formulations in alloxan induced diabetic rats
C.R. Tenpe and P.G. Yeole 43-49
Comparison of effect of metformin in combination with glimepiride and glibenclamide on glycaemic control in patient with type 2 diabetes mellitus
R. D. Shimpi, P. H. Patil, V. G. Kuchake, P.V.Ingle,
S. J. Surana, P. N. Dighore 50-61
A sensitive spectrophotometric determination of ammonium molybdate as a residual catalyst in tinidazole bulk in parts per million levels
J.G.Chandorkar ,V.V. Pande, N.S. Dhande , G.A. Parashar 62-67
Investigation of anthelmintic potential of some plants claimed by tribals of satpuda hills
Satish B. Kosalge, Ravindra A. Fursule 68-72
Antifertility Activity of Ethanolic Extract of Allium cepa Linn in Rats
Vishnu N. Thakare, Pankaj S.Kothavade, Vipin V. Dhote, Avinash D. Deshpande 73-78
Isolation, spectroscopic characterization and molecular modeling studies of mixture of curcuma longa, ginger and seeds of fenugreek
Parashuram Mishra 79-95
In vitro Licicidal Activity Of Different Extracts Of Acorus alamus Linn. (Araceae) Rhizome.
V.P. Nalamwar , S.S. Khadabadi, P.B. Aswar, S.B. Kosalge,R.M. Rajurkar
Pp 96-100
Hsv infections in aids patients: need for awareness!!!
Uday Bhosale, Dr. V. Kusum Devi, Mrs Nimisha Jain 101-110
Melt-Sonocrystallization: A Novel Particle Engineering Technique for Solubility Enhancement.
P.D.Chaudhari , P.S.Uttekar 111-120
*****